July 2019
Open Mic Night
Laura and Edward's Open Mic Night: Healing through Music
A few weeks ago, Evolution Expressions, Non-Profit Arts for Healing Program hosted an open mic night to celebrate the success of a talented teen named Laura, who successfully completed the program. Laura has a passion for music. Her dream job is to sing in her own band. If that doesn't work out, she also wouldn't mind interviewing her favorite bands and posting the videos online. Her father, Edward, shares the same passion for music. They listen to all sorts of songs together, from Janis Joplin to Black Veil Brides. Laura's counselors at Evolution offered them an idea: they could perform a song or two at their very own open mic night. It would provide Laura with an opportunity to increase her self-confidence, bond with her father, and learn what it takes to be on a stage. It would also serve as a farewell. Greenbean Coffee House was the (initial) chosen setting. Their supportive and inclusive atmosphere was exactly what we hoped to give Laura.


For three days in a row, Edward stopped by Evolution after he was done with work to borrow a guitar and practice their song, Every Rose Has Its Thorn by Poison, with his daughter, Laura. They were committed to getting this song just right. When it came time to arrange the open mic night, the counselors discovered that open mic night had been postponed for the summer. While this was a bit of a disappointment, Laura's counselors decided to bring open mic night right to Laura and Edward at Evolution's office. With a crowd of Evolution Expressions kiddos, teens, and counselors in attendance, Laura and Edward performed their song. And then they performed another. And another. And another. Edward and Laura even got their audience to sing along, dance, and smile. They performed an acoustic set of their favorite songs for close to an hour, and it was a really special night to be part of.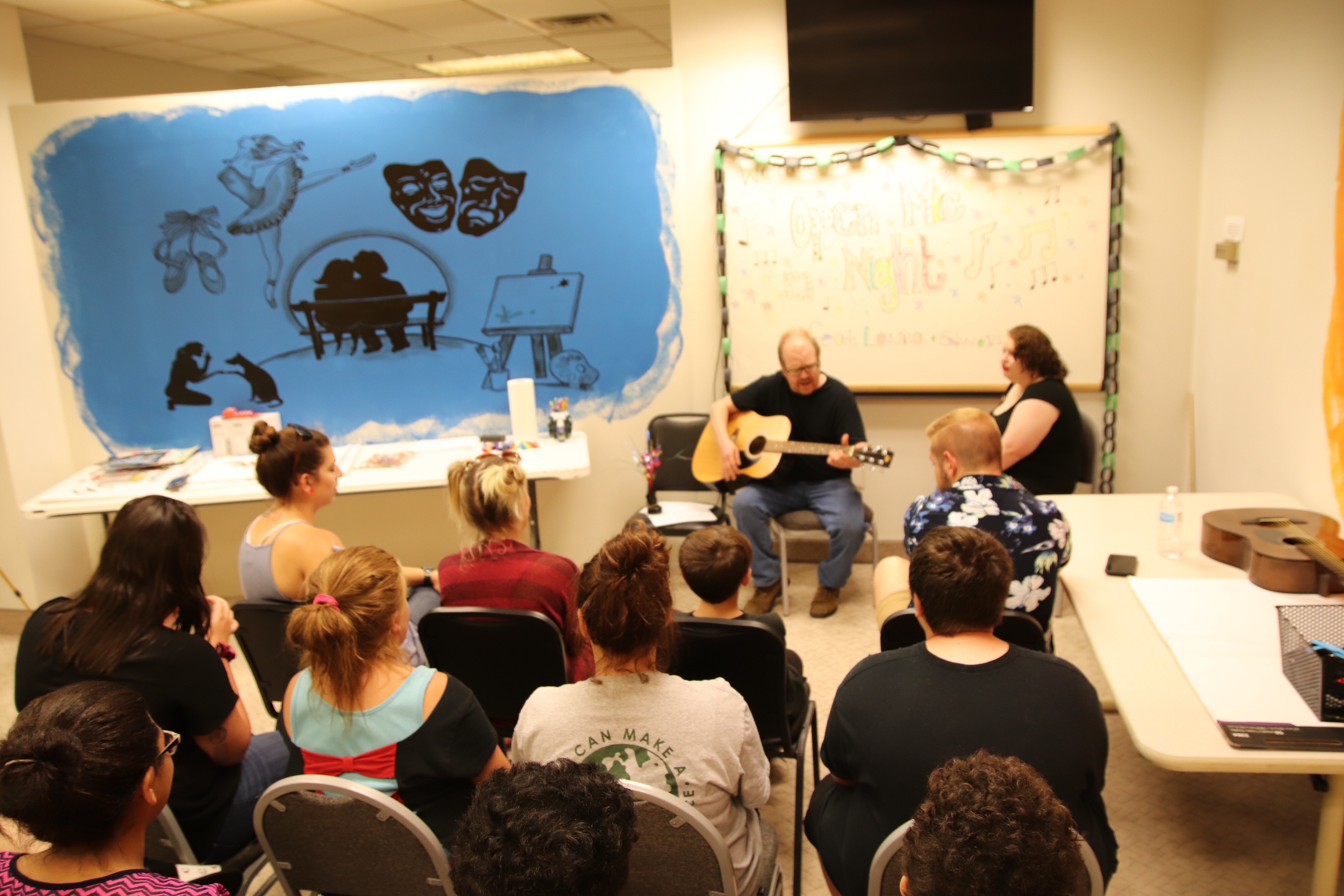 Laura found support at an important moment in her life. She evolved into a more authentic version of herself throughout services. Her personality blossomed, her self-confidence increased, and her social skills, coping skills, and relationship with her father improved. Open mic night provided Laura and Edward to have fun, conquer and exceed their goals, and celebrate the successes of all their hard work.
Donate & support us through our GoFundMe page. We will use this money to better the surrounding communities, assist families & individuals, and offer more fun & exciting events in the near future!
May 2018 Fundraiser
hosted by Greenbean Coffee House
Handcrafted Caramel Banana Twist!
Our May 2018 Fundraiser was a great success! We would like to thank our supporters and Greenbean Coffee House for providing such a great opportunity to benefit our community! 50% of all proceeds generated from our handcrafted Caramel Banana Twist came back to Evolution Expressions. We couldn't be more happy with the ongoing support of this local business and our community!